Loan business
Domestic guarantee and foreign loan business (ICBC branches in China issue the guarantees and ICBC Spain Branch offers the loans), foreign guarantee and domestic loan business (ICBC Spain Branch issues guarantees and ICBC branches in China issue the loans), sight and forward foreign exchange transaction and other financial services.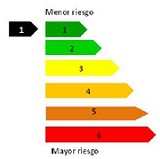 Risk Indicator *
* Industrial and Commercial Bank of China (Europe) S.A, Branch in Spain, belongs to the Deposit Insurance System in the Grand Duchy of Luxembourg, through its parent residing office in Luxembourg , which involves protection of up to 100,000 euros per holder ( AGDL - Status 17 December 2010 - Article 8 point 1 This amount is up by owner and all accounts opened deposits in Entity Including time deposits ) which is the same amount that is guaranteed in Spain . Information on Deposit Insurance System of the Grand Duchy of Luxembourg: Association pour le Garantie des Depots Luxembourg.Domicilio 12 Rue Erasme . L -1468 Luxembourg. B. P. 241 . L - 2012 Luxembourg. Phone +352 46 36 60 01 . Fax +352 46 09 21. Contact by e- mail info@agdl.lu . Information available on website: www.agdl.lu.
We provide multi-currency account services. You could open a current account with Euro、US Dollar and Chinese Yuan, which could fulfill your diversified financial needs. You could also earn interest with your current account. For time deposit, we provide different deposit terms and interest rates. Chinese Yuan deposit is ICBC featured product, we would like to invite you to share the benefit of globalization of Chinese Yuan.
On the basis of multi-currency accounts, both corporate could apply for EURO, US Dollar and CNY remittance business in our bank. ICBC offers individual corporate CNY trade settlement.When a corporate customer applies for the remittance, it shall be confirmed that beneficiary customer's name is included in the Corporate List of Chinese Yuan Cross-border Settlement of Trade.
Notice
1. Liquidity Alert
- "Refund, redemption or early repayment of part or the principal amount invested is subject to fees or penalties"
- "Refund, redemption or early repayment of part or the principal amount invested is subject to a minimum relevant notice period"
2. Alert regarding the foreign currency exchange rate risk in other currencies (RMB/USD)
The foreign currency exchange rate risk is the correlation of the value of one currency against the value of another currency due to the fluctuation of the currencies values.
Regarding the term deposit, when involving foreign currency exchange (FOREX), either in engaging, and maturity or early withdrawal, benefits or losses could be generated as a result of the difference between the foreign currency exchange rate at the engagement, and the maturity or early-withdraw of the term deposit.
Investment and Consulting Management
ICBC Madrid as the only Chinese origin bank by now, besides the traditional deposits and loan business, provides investment consulting, acquisition loans and post-investment management services to both Spanish and Chinese enterprises who have the intention to invest in both countries. ICBC Madrid as the investment consultant functions in the following aspect: recommendation of potential transaction counterparty, bridging the two parties, giving suggestion to the structure of the transaction, providing acquisition loan if necessary according to the financial structure of the transaction etc. After the actual investment, ICBC Madrid would continue providing services such as management of the fund of investment, account settlement, the information collection and general operation surveillance of the invested party.
Online Banking
ICBC (EUROPE) S.A., Spain Branch launches the Online Banking service for the customers. We offer services of safety, comfort and speed. Corporate customers can apply for Online Banking. With the service, you could manage and operate your bank account anywhere with an Internet connection 24 hours/day. You could check movement, payment, receipts, international transfers, foreign exchange trading etc. For customers who are away from office or can not attend the office on our schedule, could meet your needs through ICBC Online Banking.
Global treasury managementg
With the ICBC group's powerful global accounting processing system and the online banking functions, we can offer the global treasury management solution to the multinational companies by supporting the parent company in its remote check of the balance and details of the subsidiaries or branches at any time and its collection and transfer of funds with different degrees of authority.